THE V PACK ARENA
The V PACK ARENA consists of one V KICK for your bass drum, three V BEATs and V CLAMPS for your toms, one V7 X for your snare, and a pair of sE8 condensers for your overheads.
"The sE V Series captures all the attack and tone of my drums with amazing clarity and transparency. Their ultra-compact design - paired with the ingenious addition of the V CLAMPS - makes it extremely easy to set up quickly and get going."

- Daniel Erlandsson, Drummer (Arch Enemy) -
Everything You Need to Mic Your Drums and Make 'em Sound Great
sE Electronics' V Pack Arena gives you all the microphones you need to mic up a drum kit and make it sound great. You get one V Kick dynamic bass drum mic, three V Beat dynamic tom mics with V Clamps, one V7 X supercardioid dynamic instrument mic for snare, and a pair of sE8 small-diaphragm condenser mics for overheads. All the mics and accessories come in a roadworthy plastic flight case that has an empty berth for your favorite hi-hat mic.
V Kick
Designed for use with kick drums, floor toms, timpani, or other large drums where low-frequency energy is critical and SPLs are high, the sE Electronics V Kick is the most compact and versatile bass drum microphone in its class. The V Kick's integrated swivel joint allows flexibility of placement, and its purpose-built capsule delivers a sonic character specifically tailored for bass drums. Further shaping of the sound is facilitated by two switches on the rear of the microphone. From classic punch to modern edge, the sE Electronics V Kick delivers the kick drum sound you're going for in any music genre.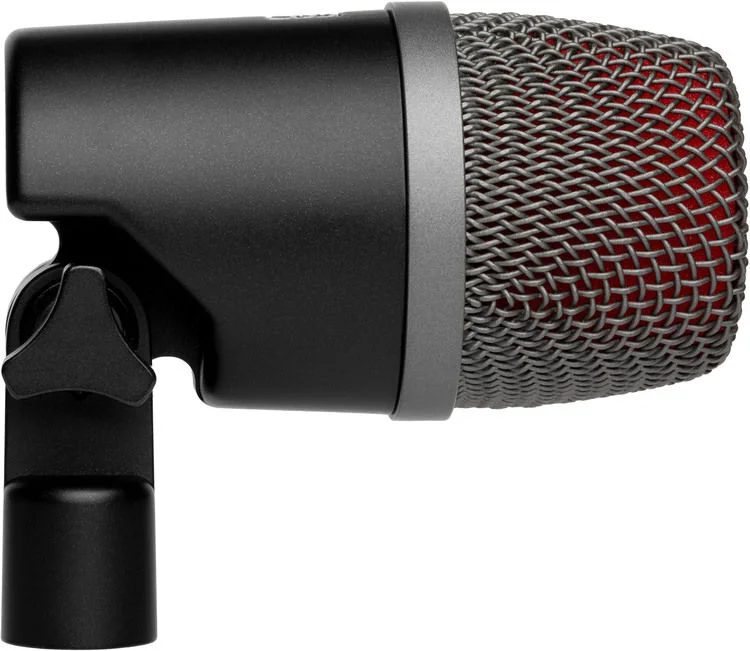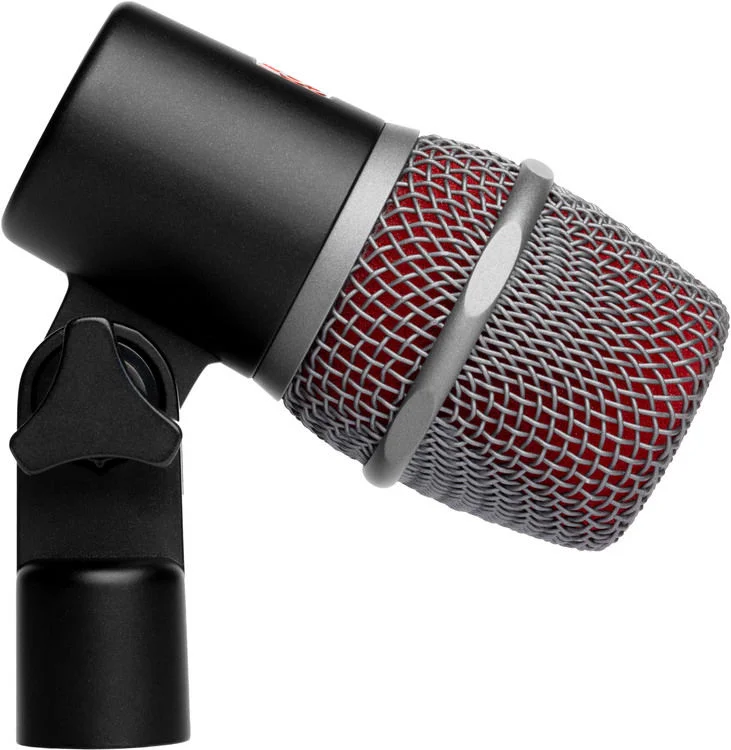 V Beat
Designed for use on snare and tom toms, the sE Electronics V Beat is the most compact drum microphone in its class. The V Beat's purpose-built capsule delivers an extremely natural and highly detailed sound on snare drums or toms of any size. It features impressive off-axis rejection to minimize spill from proximate drums and cymbals. The V Beat's ultra-compact design and parallel XLR connector/stand mount give it an extremely small footprint, and its rock-solid swivel mount lets you position it with great precision —aim it at any part of the drumhead to achieve the desired sonic character. And paired with sE's V Clamp, the V Beat is even quicker and easier to position. As a versatile, punchy snare and tom mic, the V Beat is hard to beat.
V Clamp
Compatible with most snare drums and toms on the market, the sE Electronics V Clamp is an amazingly fast, compact, flexible, and practical drum mic mounting system. sE designed it as the perfect companion to their V Beat for snare and tom miking, but it's also compatible with many other popular mics. Its rugged elastic clamp enables setup and tear-down in seconds, and its robust, roadworthy design is built for years of hard-core touring. Loosening the V Clamp's knob and adjusting the position of the rod lets you quickly adjust the height and rotation of the connected microphone, allowing positioning to capture any desired drum sound or to minimize bleed from nearby drums. The sE Electronics V Clamp is incredibly fast and painless to use. It's a no-brainer!

V7 X
The sE Electronics V7 X delivers the perfect combination of great sound and impressive durability. Tailor-made for instruments, this microphone's specialized aluminum voice coil delivers detailed highs and deep, clear lows from whatever you put in front of it. Experience excellent isolation from stage noise and massive amounts of gain before feedback, thanks to the supercardioid design. Its integrated shockmount ensures that rumble and other distracting sounds won't become a problem, and an internal windscreen prevents wind noise from ruining your performance. The V7 X is built to last, with durable zinc alloy construction and a super-tough beveled spring steel mesh grille.
sE8
sE Electronics handcrafts the gold-sputtered capsule for their sE8 small-diaphragm true condenser mic in the company's own clean room. The capsule's innovative back plate design delivers a sublimely detailed, balanced sound and superior transient response as compared with other small-capsule condensers in its price range. The high end is sweet and silky smooth. Go ahead and add high-frequency EQ — you won't introduce harshness or distort the transients. The sE8's short, efficient signal path doesn't employ integrated circuits or transformers, and this is key to the mic's remarkably natural performance in capturing acoustic instruments such as guitar, piano, strings, woodwinds, and percussion. The sE8 is also one of the quietest mics we've heard here at BensonMusicShop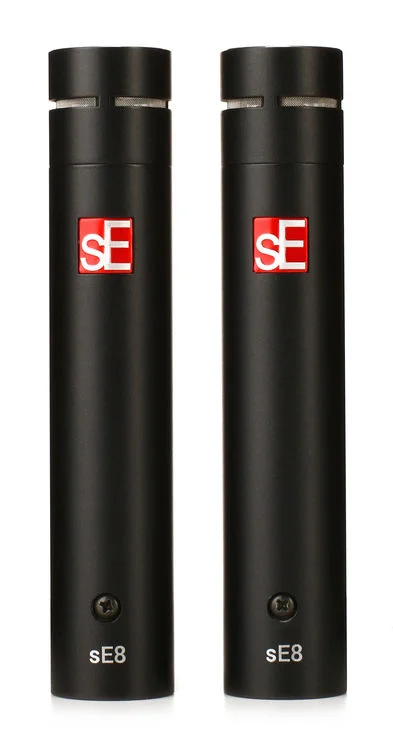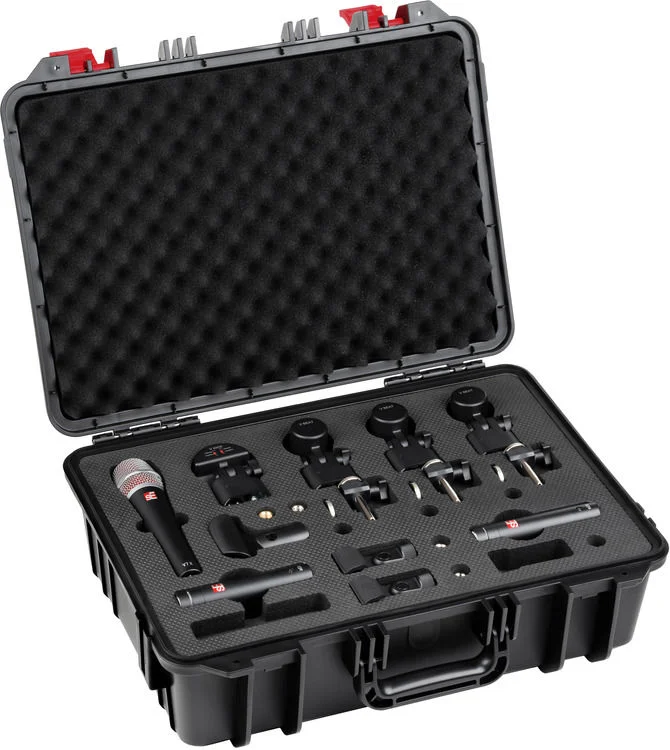 sE Electronics V Pack Arena Includes:
1 V Kick bass drum mic

3 V Beat tom mics

3 V Clamps

1 V7 X supercardioid for snare drum

2 sE8 condensers for overheads

Roadworthy plastic flight case