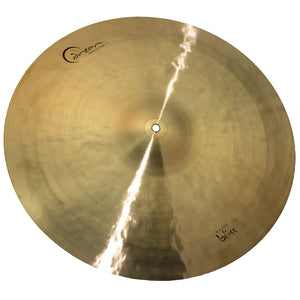 Bright, medium-thin, fast crash

Quick decay, low sustain

Perfect for any style
More than a splash, the Bliss series Crash cymbals show up with a bang!
With a million and one crash cymbals available today for aspiring and professional drummers, it's hard to find out your unique cymbal tone. Dream seeks to end this confusion with their Bliss series crashes. With a custom hand hammered tone unique to each cymbal, you can be sure that your Dream cymbal set will be as unique as you are.
Choose your size, customize your tone.
The Bliss 14" Crash - For a more powerful wash of lows in a small crash, this 14" Bliss Crash packs a punch! Warm and responsive with a quick decay.
The Bliss 16" Crash - These cymbals speak with an aged quality and a distinct overtone series that differentiates them from other Western, European, or Turkish cymbal brands. The Bliss 16" Crash is a top seller, rich, expressive and all crash, and nothing but crash.
The Bliss 17" Crash - Like all Bliss series cymbals,the surface areas of this Bliss 17" Crash cymbal is made up of ultra-thin stripes created by micro-lathing. This micro-lathing lends a particularly rounded and woody sound to it's excellent stick definition while allowing responsive attack and control.
Bliss series cymbals from Dream are cymbals made from an ancient tradition. Every single cymbal is a unique work of art, painstakingly hand forged and hand hammered by the Dream cymbal team. Each Bliss series cymbal features a warmth that beautifully seduces at low volume and thunders with a froth of dark undertones when pushed to the limit. These cymbals come alive, shimmering and wobbling as if the mere touch of human hands excites the cymbal and it can't wait to get it's voice out there and sing.
Bliss Series Features
Surface: micro lathed by hand
Bow: low gentle bridge
Bell: small, articulate, clear
Weight: thin tapers at edge
Hammering: hand hammered before and after lathing