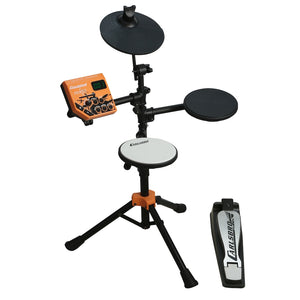 The Carlsbro Rock 50, 3-piece junior electronic drum kit. Suitable for ages 5 years and upwards. Features one snare pad, one tom pad, one cymbal pad, one bass pedal, and a pair of drumsticks. The simplified Rock50 is perfect for junior drummers and beginners, with its small footprint, easy-to-assemble frame, and Carlsbro rock orange module design. The Rock50 drum kit can also be supplied as a package (ROCK50BP1) which includes a junior drum throne and a set of headphones, so you have everything you need in one box.
The Rock50 Module includes 108 different drum sounds, 10 preset drum kits, and 2 user-defined drum kits allowing you to explore and create your own personalized sound. The Module also features 10 Demo songs, a record and playback function, an aux-in socket so you can play along to your favorite songs, stereo headphone output, and a mono line output to connect to an external amplifier. The sound of the drum kit is delivered via the headphone socket to a set of headphones or to a drum amplifier via the line output.
Specification:
108 high-quality percussion voices.
10 preset drum kits.
2 user drum kits.
10 demo songs.
Recording and playback facility.
Adjustable Metronome
Aux input...
Line output.
Headphone output.
MIDI OUT.
1 × Rock50 Sound Module.
1 × 7" Snare pad
1 × 7" Tom pad.
1 × 8" cymbal.
1 × Bass kick pedal.
1 × Height adjustable tripod drum rack.
1 × Pair of drumsticks.
1 x Bass drum display box.